COMPANY HISTORY

Family owned and operated, Pools Unlimited, Inc. has been providing outstanding service for over 40 years.
We are your one-stop destination for all things related to swimming pools. Whether you're a pool owner in need of maintenance, repairs, or looking to enhance your pool experience, or if you simply want to explore our wide selection of pool supplies and accessories, we have you covered.

---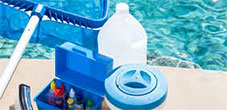 We are proud to be seen as the leader in the industry, providing our services to Howard, Carroll, and Anne Arundel counties.
Our expert pool technicians are trained to provide top-notch services, including pool cleaning, water testing, and chemical balancing, equipment repair and installation, and new pool construction. We take pride in ensuring your pool remains clean, safe, and enjoyable throughout the swimming season.
In our retail showroom located in Ellicott City, you'll find a comprehensive range of pool products and accessories, including pool chemicals, pumps, filters, heaters, skimmer baskets, and maintenance equipment. We also offer expert advice to help you make informed decisions about your pool equipment and maintenance needs.
FREE in-store water analysis open daily!

At Pools Unlimited, we are committed to helping you create the perfect oasis in you backyard. Whether you're a seasoned pool owner or new to the world of swimming pools, we're here to provide exceptional service and the highest quality products to make your pool experience truly enjoyable.