WINTER POOL COVERS
Pools Unlimited has a wide variety of winter pool covers. We offer covers for above ground and inground swimming pools in store as well as professionally installed safety covers.

Our in store selection includes round, oval, and rectangular sizes. All covers are solid with two grade options: Supreme and Silver Elite. Water Bags available in store as well.
We provide a FREE estimate for new or replacement safety covers. With the many options on the market, we can recommend the best for your pool.


LOOP-Loc WINTER SAFETY COVERS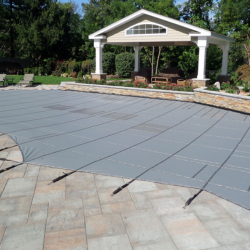 Today's swimming pools are available with more custom designs than ever. When adding waterfalls, raised decks, rock treatments, raised spas, and non-removable raised obstructions, achieving the ASTM guidelines on these custom treatments is more critical than ever. And only LOOP-LOC offers patented solutions you can trust to keep your family safe.
OUR ONGOING COMMITMENT TO SAFETY
LOOP-LOC covers not only meet, but exceed, ASTM standards for Safety Swimming Pool Covers F I346-91. To show our dedication to the safety and security of your family, LOOP-LOC covers have undergone extensive outside testing through Underwriters Laboratories (UL) and are the only mesh covers in the industry to have earned the seal of approval for safety swimming pool covers.